The Amazing Zephyr Blade
Our Whole House Fan has 6 aerodynamic, balanced steel blades called a "Zephyr Blade".
Zephyr means QUIET COOL BREEZE.
The Zephyr Blade Whole House Fan is an amazing solution to the problem of increasing energy cost.
Our engineers through the help of a wind tunnel were able to design
a whole new concept in fan blades.
Through the advanced design of the new Zephyr Blade we are able to use less energy while producing more power, QUIETLY!
Our Whole House Fan is the most advanced solution to energy efficient cooling.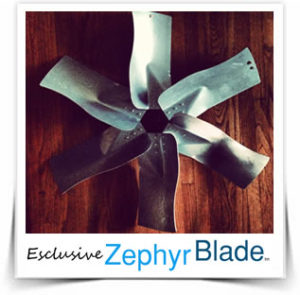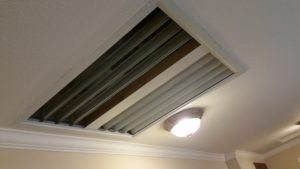 Our shutters and louvers are felt tipped and spring loaded for quiet operation as it opens and closes.
The exclusive Zephyr blade is one of the only fans that give you
QUIET and POWER!
The most advanced fan in America today!
While most whole house fans come with a limited warranty,
ours comes with a Unconditional Warranty including parts and service.
Whole House Fan comes with a 2 speed switch (high and low) and the timer makes it possible for the fan to run up to 12 hours at a time!
We also have available the new Xnihilo wireless remote switch which provides added convenience.
You might wonder:
don't they sound like a noisy turbine, vibrating and rattling the home all night long?
Not at all.
Our Whole House Fan does does this work at such low volume levels, you can sleep like a baby and never be disturbed.
It is hardly even noticeable.
The Zephyr Blade QUIET whole house fan is the choice for consumers demanding energy efficient, fresh air cooling systems.

Drastically cutting your energy bill
Makes your home comfortable
Removes inside odors
Making A Healthier Home